Stainless Steel Electrical Enclosure Boxes with Window
Stainless Steel Electrical Enclosure Boxes with Window
YGM

Shandong, China

Within 30days after the receipt of your deposit or negotiated

According to your part's complexity
1. electrical enclosure box made by stainless steel 304
2 electrical components installed, ready for use.
3. electrical enclosure box with China made brand electrical parts.
4. good quality with competitive price
5.IP65 protection rate
The electrical enclosure box is made by 304 stainless steel. It is used for a small garden control. We selected a stainless steel lock and key for the electrical enclosure box. Under the lock, there is a rubber seal for waterproof. At the bottom, there are six cable through connectors. This is also for waterproof. For good outlook, the electrical enclosure box is brushed, which can make the surface look unit. Pls view picture below.
You can see that the seal rubber is a integal foamed seal by special machine. The stainless steel fabricated box lid is fully welded including the bending connecting part.
Ground cable is wired and a label is placed. In this box, we use 275g galvanized steel plate as the stainless steel electrical enclosure box's back mounting board. It also has good anti-rust function.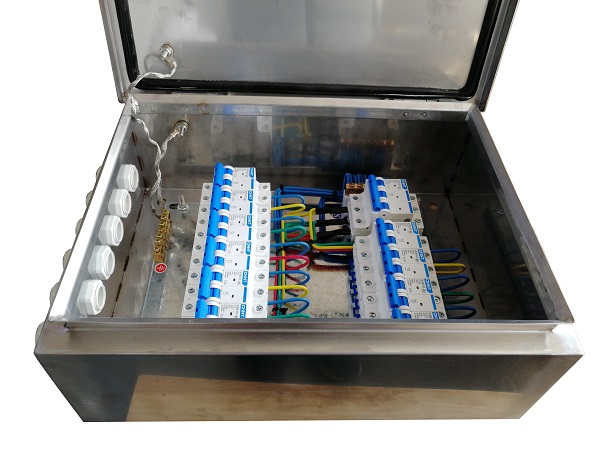 We have installed copper wiring terminal in the stainless steel electrical enclosure box. All switches are China famous brand CHNT. Wiring are clear and very neat. This kind of electrical is very cost effective, which suits customers have limited budget but needs good quality. If you need world famous electrical components, we can also provide parts like ABB, Simens, etc.
If you have this kind of products to make, pls contact us. We will provide you one-stop solution.